Quote:
Originally Posted by
Dansic
This be my first post here soooooo bear with me....
I have a 383 small block sitting in my k2500 right now. It is a tough little engine for what it is. Currently running stock TPI with around 400hp. However, as the title suggests, I've been looking into some boost... big boost. My goal is pretty substantial and broad, 600-800hp. And on a modest budget no less. I can get any part, its just a matter of time lol.
So here's the nitty gritty. As it sits the engine has a forged rotating assembly from Eagle. 4.03 over flat top pistons, 5.7" H beam rods, and the stroker crank. All of it forged. I know I'll need to get some dish pistons (probably) to get my compression down. Because right now, I think its around 11.8:1..... yeah. My heads are probably mostly to blame for that. They are some old twisted wedge heads from Trick Flow. Here comes a spec list for them...
combustion chamber: 64cc
intake volume: 180cc
CNC stainless 2.02i / 1.6e valves
1.25" single springs max RPM-6500
3/8top and 7/16 bottom studs
rough intake CFM at .5 lift is 229
rough exhaust CFM at .5 lift is 196
crane aluminum roller rockers
the valves are canted
Now those aren't the best heads around i'm sure, but I don't think they're trash either. Those specs are straight from Trick Flow tech support. I have a whole PDF on them. Anyway, I just don't know how these heads will breath with boost, keep them, trash them? Like upwards of 15-25lbs. So moving on to the other stuff, I have a high flow/pressure oil pump (it idles at around 40psi hot), the block is a 4 bolt 2 piece seal. So really, I'm all set on the short block I think. I plan to have it internally balanced with mallory metal. What I am curious about is cam selection, gasket types, blow through carb vs EFI throttle body.... that junk. My plan for the turbos is 2 60-65mm compressor wheels, fed by headers with at least 1 5/8 primary tubes. I think that will make my boost goals. ??? I know this is a big engine, not sure what the lag time will be like.
I know I'm going to need a high lift cam, but what about lobe separation and duration? I know that stuff can effect knock and timing. Especially in boosted engines. I just know nothing about it and how it effects it
Summit has the cams sorted in little packs like 4x4, truck, street, dirt trakc, supercharged, exc..... Should I just pick a supercharged cam? i don't know :/ And as far as sealing this monster up, what are the best gaskets types for boost? I've just always used normal composite types and goo ARP fasteners. This will be my first boosted engine soooo.... yeah. My optimistic goal is like 800hp. But i realize that I may only get to like 600-700 (being a novice engine builder). I guess consider this a brain storm sorta thing. Not really sure how forums like this function. Any suggestions or criticisms are appreciated. What should I keep, what should I trash? lol
Since you are using a TPI induction, you can look to cars/companies that have turboed such a setup.
Main comapny that comes to mind is Callaway. From 1987 to 1991 Chevrolet offered a twin-turbo system as an option. If you checked the RPO(Regular Production Option) B2K box when ordering your 1987-91 TPI 350 Corvette, you car was sent from Bowling Green Kentucky to Callaway at Old Lyme Conneticut.
1987 B2K's were rated at 345hp/465lb/ft torque and had a top speed of 178mph and cost $50,000.
1988 there were 105 B2K TTVettes ordered with a total of 125 tt Vettes being built. 382hp and 562lb/ft torque was available.
1989 saw 51 B2K's ordered with 68 twin turbo Vettes total being built by Callaway.
1990 Output was 390hp/582lb/ft torque with only 58 B2K's being built. The 1990 ZR-1 Corvette with its 375hp/385lb/ft, DOHC, 7200rpm, all aluminum Lotus designed, Mercruiser built LT5 was released.
1991 Ticking the B2K box got you 403hp/582lb/ft of torque. 62 B2K's were built this year. 1991 was the last year that Chev. was offering the L98 TPI engine which is the basis for the TT B2K car.
In total 497 (B2K) Callaway Twin Turbo Corvettes were ordered through the normal sales channels. However, before the Callaway Twin Turbo option went away, Callaway and Deutschman went to work to provide yet a more powerful and stunning car, the Callaway Speedster. A small amount of the final twin turbo cars and the Speedsters (10 Series 1 Speedsters w/ L98 Twin Turbo) were designated 500 Series Callaway Twin Turbo Corvettes. These unique cars came with OZ racing wheels and Bridgestone Potenza tires, a "500 Series" dash plaque, "500 Series" intercooler badge, special car bra, car cover and floor mats.
(wiki)
Regarding the "production" of the Callaway Sledgehammer, Reeves Callaway used a production Callaway Twin Turbo Corvette, 1988-051, to be precise. The car was, in fact, a production car, with all options found in other Corvettes the same model-year
(wiki)
All of these Twin Turbo B2K Callaway cars got Chevrolet 12 month, 12,000mile warranty.(tires not included lol)
Underhood pics of the B2K twin turbo Corvette.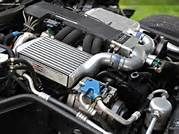 Rams horn which brings air from both intercoolers into teh t-body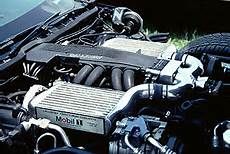 Top view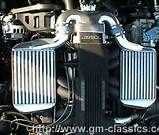 Emmissions tag on side of intercooler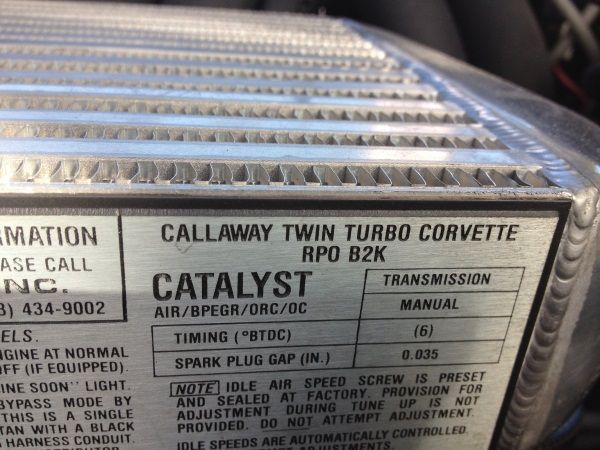 The first 4 of these 1987 engines and one other, were truck blocks. Then the proper blocks were used.
Here is the list of mods directly from a gentleman who actually did the work at Callaway.
Disassemble and acid dip engine
Block
magnaflux
remove any casting flash that was thin and might fall off
remove cam bearings and oil gallery plugs
check decks
install billet 4 bolt main caps with splayed outer bolts on center 3 positions
line bore
line hone
bore block +0.005 with stress plates in Sunnen CK10
pressure wash bock
hand wash with soap and water
install Speed pro cam bearing and hand fit
install new oil gallery plugs

Heads
disassemble and degrease
visually inspect for casting flaws
check and correct guide clearances as needed
3 angle valve job
lightly surface the head to insure flatness
assemble with Speed Pro intake valves and valve springs keepers and valve seals.
I think 130 lbs on the seat and forget what they were open spring height was checked on every valve and spring.

Rotating assembly
Early crankshafts were Scat and later changed to Callies I think after the the first 25 or 50 all forged steel
Pistons forged Cosworth with Cosworth pins dished with pressed pins and guessing around 8.5 /1 compression but that is from memory only
Speed pro plasma moly rings file fit to each bore
All cranks and rods were magnafluxed
Connecting rods new rod bolts and big and small end bore honed for correct fit
Rotating assembly balanced to .2 gram flywheel damper and clutch each balanced separately to .2 gram
pistons and rods were hand sorted into sets initially to minimize metal removal and within .1 grams as the scale we used could easily read that
Cleveite delta wall bearings hand fitted to each journal using selective fit shells
All engines assembled by a team of 3 people and resopnsible for their engine on a signed build sheet that is unfortunately long gone now as they were for in house use should there be a warrentee claim of any kind. It has been 20+ years and forget how and where they were numbered or initialed but if you see some non GM stampings on your B2K engine we probably put them there. My guess we used our production number.

Miscellaneous
Intake plenums were machined for a Calloway logo on each side
Plenums intake runners throttle body top cover and valve covers were painted with black wrinkle finish and baked under heat lamps.
Timing chains and gears were new HD parts and remember Cloyes though could have been branded through Speed Pro at the time.
Gaskets were Fel-Pro though pan and valve cover gaskets were reused GM parts
Oil pumps escape me right now if I happen to think of it will add to this post.
All engines were pressure tested the coolant system with compressed air with soapy water sprayed on by hand and I can not imagine that we would have not pressurized the oiling system to check for oil to lifters rockers etc. but that is a hunch based on our standard shop practices.
And here is a 1988+ Callaway B2K spec sheet.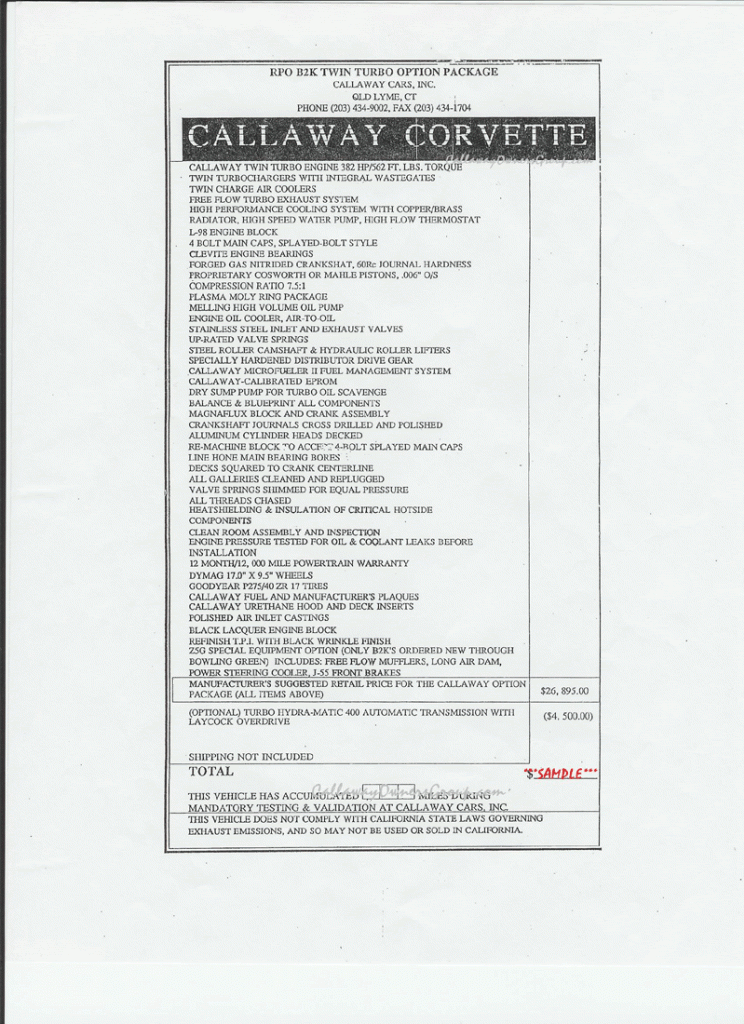 The king of all Callaway twin turbo OCrvettes was the SLEDGEHAMMER. It is a C4 Corvette which uses a highly modified 350 cubic inch engine, 2 turbos, 2 intercoolers to make 880hp. It along with the Callaway Aerobody kit allowed the Sledgehammer to attain 254.76mph.
Sledgehammer with Callaway Aerobody kit(available for conventional C4 Vettes, and for the 3" wider rearends of the 1990-1995 ZR-1 LT5 powered C4 Corvette)
Back end of Sledgehammer. Notoce the 4 Supertrap adjustable mufflers
Magnesium 16x8" to 17 x9.5" depending on year,there were 17x11" and a later 17x13" size made for the ZR-1 Corvettes. All of these MAgnesium rims were made by Dymag of England. Some of these rims are worth more than the cars that wear them(B2K models usually excluded unless the car is thrashed)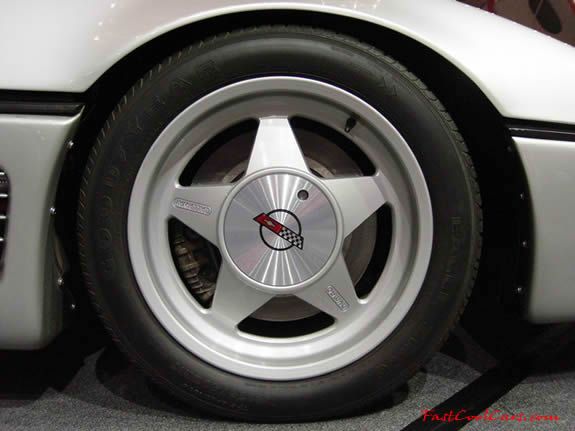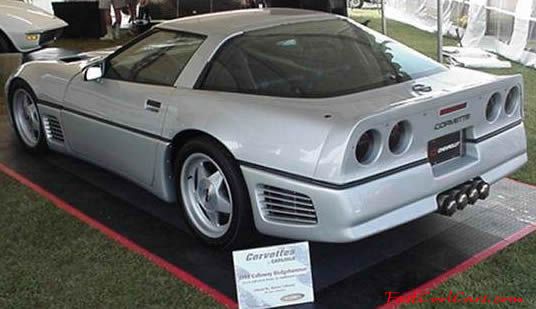 Video of the LSedgehammer speed record breaking attempt, driven of course by the late legend, John Lingenfelter.(also known for his twin turbo Corvettes). After setting teh record at the Transportation Center in Ohio in November of 1988, Sledgehammer was driven back to Old Lyme in Conneticu thereby demonstrating the advantages of turbocharging and fuel injection.
Doing laps, even in the rain, good test of the windshield wipers.
General Information
Price: $400,000
Miles Per Gallon: 10/19 mpg
Curb Weight: 3671 lbs
Layout: Front-Engine/RWD
Transmission: 6-Speed Manual
Front tires: 275/40/17
Rear tires: 275/40/17
Engine
Type: Twin-Turbo V8
Displacement: 5733 cc
Horsepower: 898 bhp @ 6250 rpm
Torque: 772 lb-ft @ 5250rpm
Redline: ---- rpm
Performance
0-60 mph: 3.9 sec
0-100 mph: 9.4 sec
Quarter Mile: 10.6 sec @ 127 mph
Skidpad: .98g
Top Speed: 254.76 mph
Braking, 60-0 mph: 122 ft
Slalom Speed: 65.6 mph
Making 898hp from 350 cubic inches, is moreso easily accomplished today, than it was 25 years ago in 1988. The more impressive part is the packaging of that 350 cubic inch engine, and all the ducting that is needed to feed air to the turbo and from the turbos along with being cooled and introduced into the engine. Then factor in the turbos themselves and the heat shielding that was needed to prevent cooking the interior, along with the oil coolers, air charge coolers, powersteering coolers, brake cooling, trans cooling, differential cooling. In 1991 Callaway began using "The Wonderbar". This is a modification to the air intake system in which the front frame is modified and actually used as a duct to route air to the turbo's. This modification provided greater air flow to the turbo's which resulted in an increase in power. The thermodynamics involved in building this car is amazing. In 1988, it blazed up to 255mph, then hit the highway for a 550mile at 70mph cruise to its home diggs in CT.
Making power, and making it last can prove difficult. Hopefully you find some of this info helpful.
peace
Hog