OK, here is my opinion, and it is just that----an "opinion"
The label does say 75%.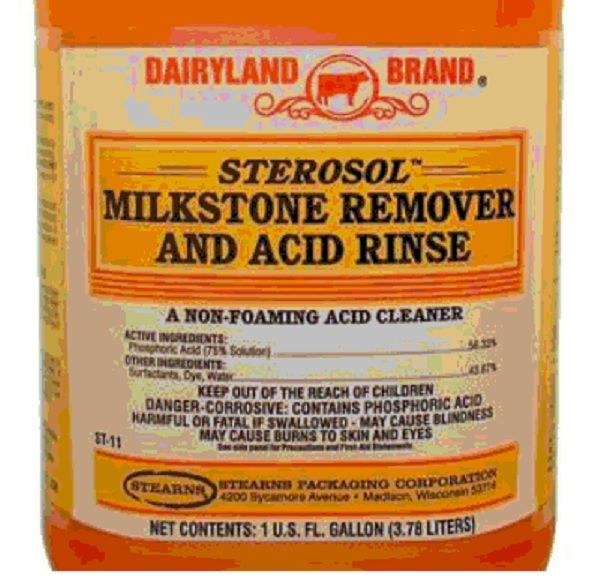 But it goes back to what I was talking about before, you can not trust labels.
If you look at the data sheet (MSDS), it says
that
information is not available.
"CHEMICAL IN PRODUCT:N/A; CAS#: N/A; WEIGHT % OF CHEM: N/A"
http://www.stearnspkg.com/msds/bulk/...ACID-RINSE.pdf
As I have said before, I'm not a chemist, so correct me if I'm wrong.
When I look at the MSDS for Ospho it's a different story.
In bold letters, it says PHOSPHORIC ACID SOLUTION (75%)
http://www.jamestowndistributors.com...PHO%20MSDS.pdf
It makes me wonder if that is the reason for the low cost of Milkstone. They don't have the expense of the rust inhibitors, or have to worry about paint adhesion, so maybe they can get away with a weaker phosphoric solution to start their formula with.
The only other ingredients they list are cleaners for the milkstone, and liquid (containing phosphoric acid), so its possible that they could end up with a 42.25% phosphoric even though the original phosphoric solution is less than 75%. I think they probably just get a solution to suit their needs, whatever makes it come out to final solution percentages they want.
You can't really call this a "snake oil product" because they don't make any claims about rust removal, its all about cleaning milkstone as the name implies. So I would suggest a product formulated for rust removal.
Here is another reason for reading the data sheet
AVOID CONTACT WITH STRONG ALKALIES. (WILL PRODUCE VIOLENT ACID/BASE NEUTRALIZATION REACTION)
So don't try to neutralize phosphoric acid. All the data sheets seem to say the same thing about taking the acid off, JUST RINSE IT OFF WHILE IT IS STILL WET. I rewet it with acid before rinsing, to make sure some of it hasn't started to dry. In that state is still looks wet, but will be a little sticky, and thats not good for a complete rinse. Actually, I use a scotch brite pad wet with acid to scrub it just before rinsing, and that does a pretty good job of getting rid of it.