I just bought a kobalt 80 Gallon single stage 5 HP compressor. Here are the specs:
Air Delivery SCFM @ 40PSI 17.3
Air Delivery SCFM @ 90PSI 16.1
Horsepower (HP) 5.0
Tank Capacity (Gallons) 80.0
Tank Type Stationary
Air Compressor Voltage 230
Im looking to run all air tools, from sanders, ratches, paint guns, cut offs, ect..
Ive been reading about regulators and preassure drop and im thinking that ill go with a 1/2in line, is the to big? I dont want to loose performance from restriction, but i dont want to go to big.
Now once i get the line size down, i can get a regulator. Some people hate the Harbor Freight ones, some say they are fine. I want something that will last and is rebuild-able and is not overly expensive. Im, also looking for a filter/dryer. whats the difference between a combo unit? The dryer just drips the water from the bottom correct, and a filter has a micron filter for particles right?
Next im looking at using this plumbing sechematic: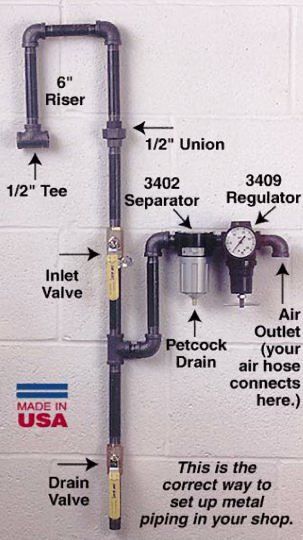 Will this be to much/needed/to little?
Thank you for looking at this, i just want to learn the differences between the units and under stand how they work.
Thanks,
Ryan