It's not air that controls this one. This is a vintage Michigan Pneumatic tool and it's got a handle that pushes down the dies before the air makes it work.
Click on the photo to see video.
Or click on the link.
DSCF5095_zps8c80105e.mp4 Video by BasicsofBasics | Photobucket
Something like what you did for the shrinker stretcher would work I figure.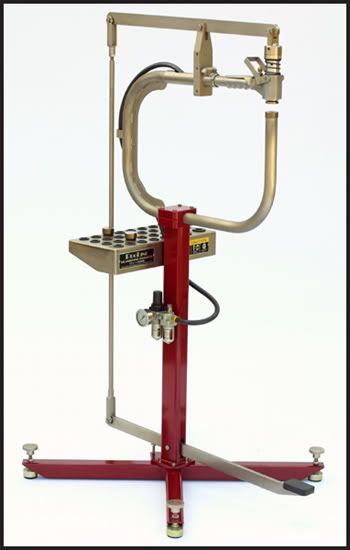 This is where I have to face the fact that I need to make it kinda permanent. I was frying to figure out how I could do it so this unit would bolt to the wall and have a cable operated pedal. This way I could quickly pull it down and put it back on the shelf. Space is one of my problems. If my shop (garage) was big enough I could make something like the one above. I do know that I never thought I would use the tool without the stand but I am learning it's also used by hand so it can't be permanently mounted anyway.
Brian