Quote:
Originally Posted by
Bstalion
Hi folks, I'm building a '50 studebaker rat rod p/u. It came with a 350 chevy 30 over, flat tops, 2.02 heads and 600 holly hooked to a 350 turbo with approximately 373 gears. Here's the bad part the cam is one of those huffing and puffing wide duration cams but I have no idea what. I would guess from it's extreme rough idle it must be a 292 advertised or more. Problem is it also came with basically stock converter. At idle in gear,the engine just barely runs, loaping and wanting to take off. So I ordered a b&m 2400 stall. It came, i put it in and much to my surprise not much change. This was one of b&m's cheaper line. So this time I thought I would do a little more research. The engine idles at 1000 rpm's ( wouldn't get much lower), drop it in gear and it slows to 800 rpm's, power brake it and the wheels spin at around 1800. Now I'm trying to figure out what brand and size stall converter to go for. My confusion and ignorance comes in the area of what benefit in idle do you get as you increase the stall. It is the rough idle I'm trying to overcome without causing a problem with slippiing at normal driving. I'm considering around 2600 to 2800. Any help would be appreciated.
Thanks
The ignition timing is at the root of it all. Basically you want a LOT of initial timing and a short mechanical advance. That allows the carb primary throttle blades to be closed where the transfer slot is exposed the right amount. If the throttle blades are open too far, the transfer slot becomes the main idle air/fuel mixture supply and this will cause a poor idle and off-idle transition.
There are many posts here on this subject if you want to do a search. Also you can read the info
here
and if you still have questions, just ask!
Holley primary idle transfer slot
The drawing below shows the primary idle transition slot as seen with the carb held upside down. The drawing on the Left shows an overexposed transition slot. Baseline the throttle blades to give a transfer slot that looks like the image below, Right: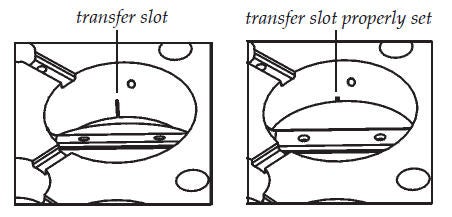 Other carbs have similar transition circuits, and they need to have the throttle blades in the 'sweet spot' same as the Holley. If the throttle blades are open too far, a poor idle and off-idle transition can be the result.