Years ago when I first built my Olds 455, I was told that it was cheap insurance to spend some time deburring the block...removing casting flash (like just above the cam in the lifter valley) and radiusing the sharp edges around the main webs and oil pan rail, as a way of stress-relieving the block to prevent possible cracks. I spent an evening with the die-grinder and completely smoothed everything off.
Now I'm ready to rebuild another 455, a street/strip project around 450HP. This block is stripped down and will be headed off to the machine shop within the next week or so. However, if I'm going to repeat the deburring process on this block, now's the time to do it, before it gets cleaned.
So...what is the general concensus regarding spending time removing block casting flash and sharp edges. Is this something that SHOULD be done, or is it just internal eye-candy?
Here's a comparison of the smoothed-out lifter valley slot vs. the as-cast block. (The flash-rust you see is what happens when a clean block sits outside overnight in a rain storm...no problem, it's trashed anyway.)
(click thumbnails to enlarge)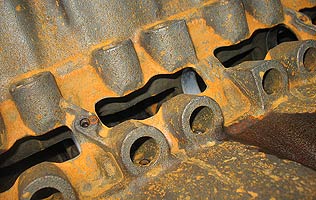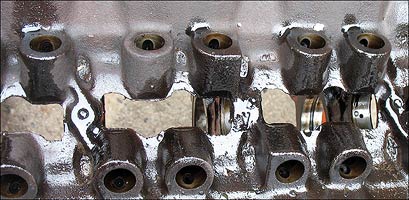 ...and here's a comparison of the smoothed-out main web and oil pain rail vs. the as-cast block: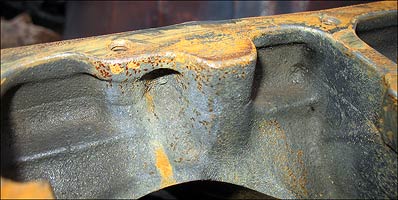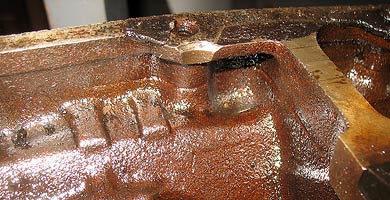 So what do you think? I know it's not going to hurt, but is it beneficial to any degree?