My 56" box had an accident which I finally got around to repairing. I wondered if anyone else had found a better way than what I did and Googled. Lo and behold this old thread I had forgotten about came up. So I decide to add some info to it.
My generation one 56" box (same as the 72" depth) had damaged drawer slides. They say if you have a credit and can get through the phone lines AND wait up to two months, you can order new replacement slides. Meh.
Some time ago I built an under bench drawer using some ball bearing slides from a big box store so I went looking for those again. Found them at Lowe's. Home Depot had them available only online and at double the price for some reason. My slides measured 19" total and they only had 18" or 20", so I bought one (pairs) of each. The 18"s would work but the drawer would quite open ALL the way so I went with the 20"s. They work. I'll use the 18's somewhere else. I'm not big on returning things.
If you choose to go the route I did:
Drill out the rivet on each side of your drawer (single rail). You can reuse this hole with the new rails but it's too big for a 1/8" rivet. Probably 6mm or something. A 3/16" might work. Being hard-headed and having 1/8" steel rivets on hand I just used it for an alignment hole and drilled out back two. If you load your toolbox drawers pretty heavily the bigger rivets are a good idea. You can easily use three or more rivets on the drawers but you can only get four total rivets on the box. That means the weight of the drawer is basically going to be suspended by those four rivets in shear.
The slides are close to being identical to the originals, except for the metal weight support tabs. Though they are longer I found if I put the chest rails all the way up against the back of the box and the drawer slides all the way up against the front of the drawers they fit perfectly. After about the third slide I realized that instead of eyeballing the box where the old rails used to go for the new holes and using a level, I could just pick my spots then put the old slide back on. It makes it easier to center up the holes so you don't go off level. Mark and then just drill right through the old rail and the box. Toss the rail and you're ready to assemble. Rivet the four slides and put the drawer in. It's important that the drawer be EMPTY. I killed a perfectly good slide trying to put a half-loaded drawer back in. Your drawers need cleaning out anyway, don't they?
That's about it. The slides I used for this box were Richelieu 20" (500mm) rated for 100 pounds a pair they say. "Full-extension side mount". The only part number I see on the package is TU99072G20. You can find them online under "drawer slides" simply enough though.
Upper drawer is stock. Lower has had both replaced. Slides look like they come from the same factory, don't they?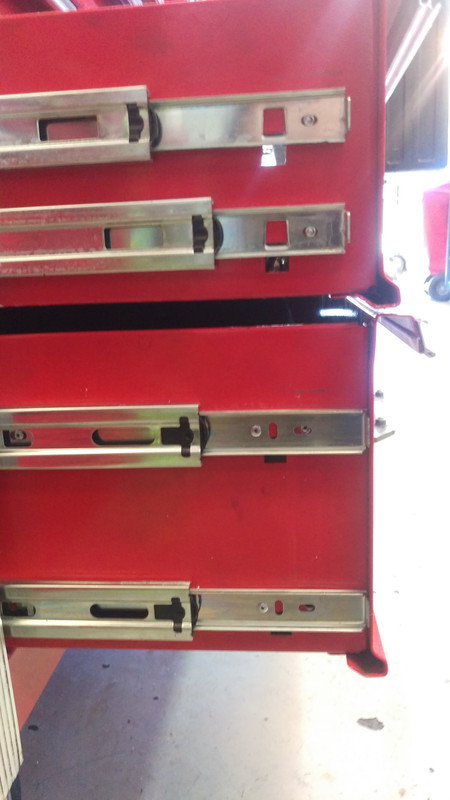 Are there other ways to do this? Sure. Probably some better. But in this case I could run over to a hardware store, get what I need, and get it fixed in one afternoon. I'm not particular about stores really. Home Depot did not have these in stock nor any steel rivets, Lowe's did and I looked no further. You folks with the 44" boxes that have different depths will just have to find what works for those. If those slides are an odd size like 15" or something I betcha rounding up to the nearest even size will do you too.