Lecarra is a American business now...
This is a copy of some information I found on the internet.......while looking for information on the LeCarra 40 Ford steering wheel.
Quote:
Originally Posted by SUPERCHEVY
the company entered the whole new market of street rodding, which embraced the stylish and comfortable steering wheels they produced. After twelve years of building the France-based business, the two brothers sold it to American Ross Adams, who also took a 12-year stint working the steering wheel market. It wasn't until 2000 that Lecarra's current owner, Chuck Losey, transformed the 90 percent French manufactured business, into a 100 percent U.S. business.
http://superchevy.com/technical/addi...104sc_lecarra/
Is the page on the internet IF you want to read the article.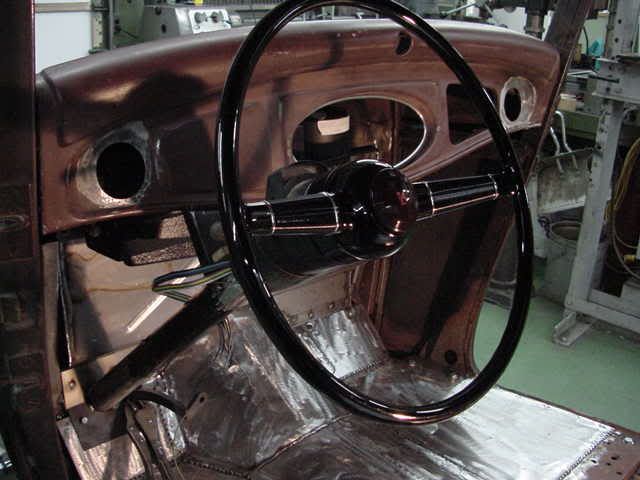 Here is a real 17 inch diameter 40 Ford steering wheel adapted to the Chevy/GMC van tilt. This is NOT the LeCarra kit. Their 40 Ford repro copy wheel is 15 inches in diameter and a stock 40 Ford is 17....
This is in my 32 3Window.....photo taken the Wednesday before Thanksgiving. I may buy their wheel....the 17 incher looks a little bit large in the small 3W......But it is without all the other interior so .......it may look correct as I add pieces.