Discussion Starter
·
#1
·
I want to build a fully boxed rear subframe under the back of my Pinto and mount a 3 link with a Fays2 Watt's link, coilovers, and fuel cell.
First, I'm planning to build framerails out of 3x1x11ga off of the stock front subframe, like this:
I want to build the rear similar to this with a fuel cell mounted under the floor:
Here's the Watt's, although I'd be building my own frame and axle connectors (welded to the axle). The center mounts on a subframe with the ends mounted to the axle. They'll provide the propellor, rods, rod ends, mounting plate for the subframe, and the hardware for a damned good price: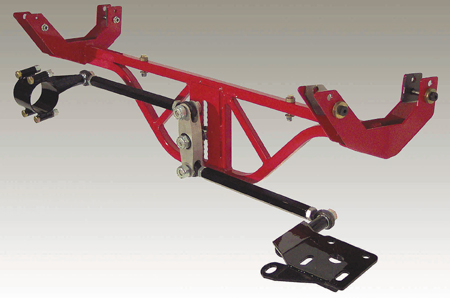 And here's the space I have to work with:
The current plan is to build this inward of the current channel rails in the back of the car and then remove the stock ones afterwards. This would also allow me to tub the wells a little later if I wanted even wider wheels. Everything stock will be coming out - spare tire well, gas tank mounts, shock mount subframe, etc. The bumper can be remounted later, I'm not worried about it for now. I can handle figuring out the basic design and how everything is going to fit, but I'd like some pointers.
I was thinking about using the same 3/4 inch rod ends and 1.125 billet arms as the Fays2 Watt's link uses as trailing arms - the company will make the arms whatever length I need and again at a good price.
I'm not sure on how long to make the 2 trailing arms and I'm curious what the best setup for them is - axle mounts and all that. I've seen some shorter brackets that keep the end close to the axle and then longer ones with a lot less ground clearance. Where the stock shocks sit, I'd like to run a boxed crossmember for the upper coilover mounts. I'm also aware that I'll need to account for the arc of the axle when I set the angle of the Watt's link frame.
I shouldn't have much of an issue with clearance as I'm not planning on lowering the car any more than 1 inch from stock - it already sits damned low as it is. The main issue will be fitting the fuel cell and Watt's in with how little length there is, but it is doable. I just might have to go with a smaller cell than I'd like.
I'm mainly looking for advice on what mistakes to avoid. I've never done anything this involved before and want to make sure it's safe and I don't get in too far over my head. I've started an engineering degree but haven't gotten far into it - I don't know enough right now to just jump headfirst into it. I've seen some dangerous and stupid chassis/suspension mods and I don't want to be one of those idiots. I'll probably have a friend who is a certified welder do the welding after I mock everything up, I'm not experienced enough to have that much faith in my welds. I was thinking mostly 1.25x1.25 and 2x1 box tubing in the back, probably 11 gauge. I'm also aware that I have to support the car properly so the body isn't in sag while the frame is being built. If anyone has a better way to do this than what I'm planning I'm all ears, I want it to be strong and I don't want to make the project unnecessarily difficult.
Is there anyone who has good photos of a similar idea that's actually been carried out? I'll try to find time to sketch the idea I have in my head at the moment.