·
Brian Martin,Freelance adviser
"Basics of Basics" Nuts and Bolts.
(Yes we are talking nuts and bolts that hold your car together.)
By Brian Martin
Today at work I was again reminded that not all of us have a basic understanding in nuts and bolts. I was asked to get a "10" bolt. (insert rolling eyes smilie) What the guy was referring to is a bolt that used a 10mm wrench on it. That my friends is not how you measure a bolt. A bolt is measured by the diameter and length of the threaded area. And again, there is the thread count making it "fine" or "course" thread.
This is the basics right? Well, that is it, diameter, length and thread count. With those three things you can call up a store and order the right bolt over the phone. You can't if you say "10" as your size.
The "head" of the bolt will determine the size wrench you put on it. That doesn't mean for a second that the diameter of that bolt is going to be a given diameter. You can find ¼" bolts with 7/16" heads on them as well as 5/16" bolts with 7/16" heads on them. Just as on a late model car you will find 6mm "shanks" (the threaded area) with 10mm heads (the most common bolts found on a Japanese car body) to 8mm shank bolts with a 10mm head (commonly used on the door check straps).
Then we have "types" of bolts, you have button head allen "cap", you have hex bolts, hex with a little washer built in, there are lot of different styles of bolts.
Here is a little chart showing the different types.
http://www.boltdepot.com/Fastener-Information/Type-Chart.aspx
This being the "basics", honestly you only have to know the few that are on your car. Most likely hex holts both with our without a built in washer and a couple of different trim screws with or with out an oval head or pan head, that is about it. 99% of the average car is going to be limited to those four fasteners.
And yep, there are plenty of cars out there with torx and a couple of others with more and more late model cars using these. But for most older cars the four mentioned are going to cover you.
Torx is called not by a measurement but a "size' T15, T25, etc.
The Torx is a star shaped hole in the head of the bolt. There are also male torx bolts which is just the opposite.
The head of the Hex bolt is measured like this, this one being 9/16 inch across, thus a 9/16" wrench is used. If it were metric it would be in millimeters 10,12,14 are common.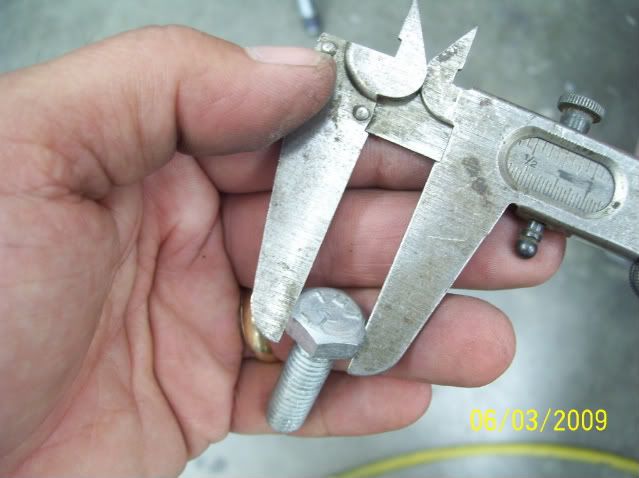 This is where the shank is measured to determine the diameter.
Again, with a metic bolt, it will be in millimeters 4,6,8, and an SAE bolt in inches ¼", 7/16", 5/16" etc. This one being 3/8"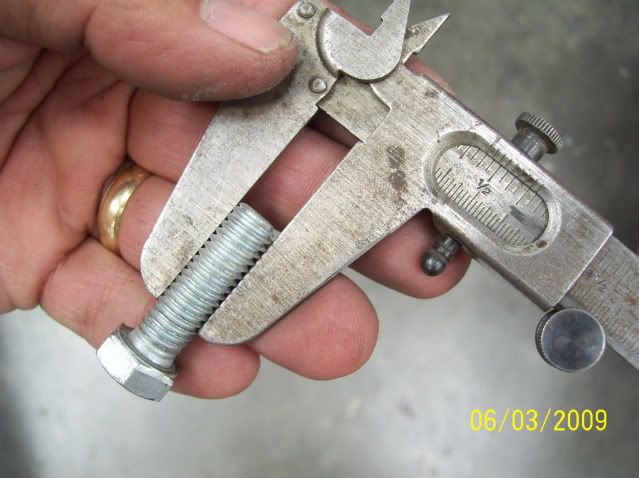 The thread count is measured by a neat little tool (tread gauge), this one being metric. The metric bolts threads are measured by the distance between threads in a millimeter. So you will commonly see 1.25 and 1.50.
The SAE bolt is measured the exact same way, only in inches. It is measured by the amount of threads per inch. 18, 24, 28 threads per inch are common.
Don't take for granted that you are going to have "fine and coarse" threads and that is it, there are many found that are not a common thread. We had one the other day at work where a bolt was needed for the handle on a spray booth and it ended up being a ¼" bolt with 24 threads per inch, very uncommon and we didn't have one in the shop to replace it. Some will even say this size doesn't exist, that it is a metric 10x1.0 but that thread gauge didn't work on it and I found 1/4x24 nuts and bolts on the net, so yes they do exist.
The point being, if we would have assumed it was a "fine thread" ¼" and ran one into it, we would have ruined the threads.
These measurements are for commonly found SAE and metric bolts in America. There are other types of bolts using different thread "Pitch" measurements around the world.
As for "grades" or "strengths" in metric the higher the number the "harder" the bolt. And in SAE, the more "bars" on the top the harder the bolt. Notice I didn't say "stronger", because "hard" doesn't mean strong, it only means hard. There are a lot of cases where a harder bolt would break because of the forces on it than a softer bolt.
Basically, around the cars body which is what I am most familiar, very low grade is all that is needed, I don't care if it is a hinge or a fender, it is going to be strong enough. While when you start talking engines and drive lines, I suggest you do your homework before you grab a bolt at the hardware store for your four bar link.