·
Brian Martin,Freelance adviser
Discussion Starter
·
#21
·
By my calculations you were a very young man and should have been on cloud 9 to boot.
OMG was I! I was 18 and it was like I was in the main area winning the Riddler award!
I have said in the original post in this thread how that truck was NOT popular in those years, people honestly didn't like them. I pulled up to this rod run and was turned away at the gate because the guy said it wasn't a 48! NO KIDDING! I had the registration right there on my visor and didn't think much of it, I had heard it before. I showed it to him and he said "you modified the pick slip" or something like that. I took off spinning the tires and parked down the street. I walked into the place and looked for Andy! LOL, now mind you Andy Brizio was a legend, I mean a
legend
big time!
Andy "The Rodfather" Brizio and the "Instant T" - TBucketPlans.com
I had never met him, but went looking for him with the registration. I found him and he walked back to the gate with me and told the guy to let me in. He said smart ars "You're the boss", jerk.
But after that, yeah, I had a ball!
This was that morning on the way to the run.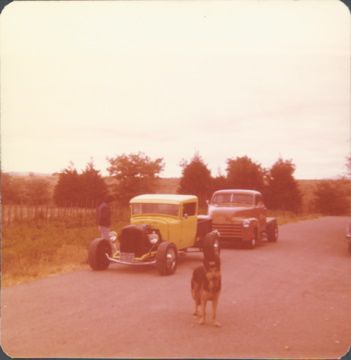 I didn't get to park next to my brother's Model A because he went in before me when I got stopped at the gate. The model A was my first paint job ever, my truck was the second.
The Model A was my second top chop, with my truck being the first.
This isn't my photo but I do have one I took climbing up on the hill to get an "arial" shot.
Brian