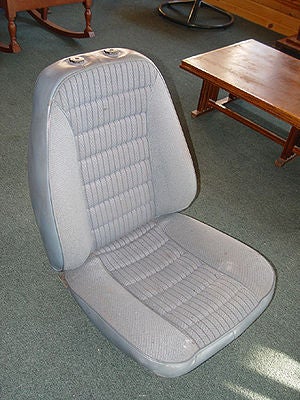 32
From Hotrodders.com Scratch-Built Hot Rod Wiki Jump to: navigation, search
__NOTITLE__
Chapter 15: Upholstery - Seats​

[edit]
(Note to readers: This is a very streamlined version of the seat upholstery process. For more details on how this upholstery was done you can go
here.
For more information, consult the many automotive upholstery books written by professionals, and search out the many tutorials available on the internet.)
The donor seats[edit]
Panel patterns[edit]
Rolled and pleated panels[edit]
As you will note in the picture of the original seat, the center section of the seat and the back are pleated. We will do the same with the new seat covering but we want to create a more traditional "rolled and pleated" look for the center sections.
The flat panels[edit]
Looking again at our original seat (Photo 15-2), we see that the pleated center panels are surrounded by flat or "plain" panels. Although these panels are fairly simple, they all have foam backing. Photo 15-8 shows the sew foam attached to the back side of one of the panels. Photo 15-9 shows the fabric side of the same panel. Photo 15-10 shows the balance of the panels with the foam sewn in place.
Welting[edit]
To sew the fabric around the cord, your machine should be equipped with a "welting foot". This is a special foot with a concave bottom, which holds the fabric tightly around the cord while sewing (Photo 15-13). The fabric is folded over the cord and sewn as shown in Photo 15-14. Photo 15-15 shows a strip of welting ready for installation.
Sewing the panels together[edit]
https://www.hotrodders.com/tw/index.php?title=Upholstery:_Seats&oldid=5469
"