Discussion Starter
·
#1
·
Hey there everyone, I'm still working on our V8 beetle project, a lack of extra money has just slowed down progress.
I got our th350 trans swapped out for the 200r4, and now I'm wanting to figure out where I want to engine. That way I can weld in the engine mounts and make a new trans cross member.
Right now I have the engine sitting just about where it would be for a V8 s10 swap. With me lengthening the wheel base 4" I'm thinking that I'll have plenty of room to move the engine back a little ways to make more room up front for the radiator, and also move a little of the weight back. I was thinking of moving it back 4"-6" I also am widening the car 8" so I'll still have plenty of foot room with more of the trans being right there. The only problem with this is that my mechanical fuel pump will be in the way, but an upgrade to an electric pump wouldn't hurt anyways.
Here is a picture off where the engine sits now: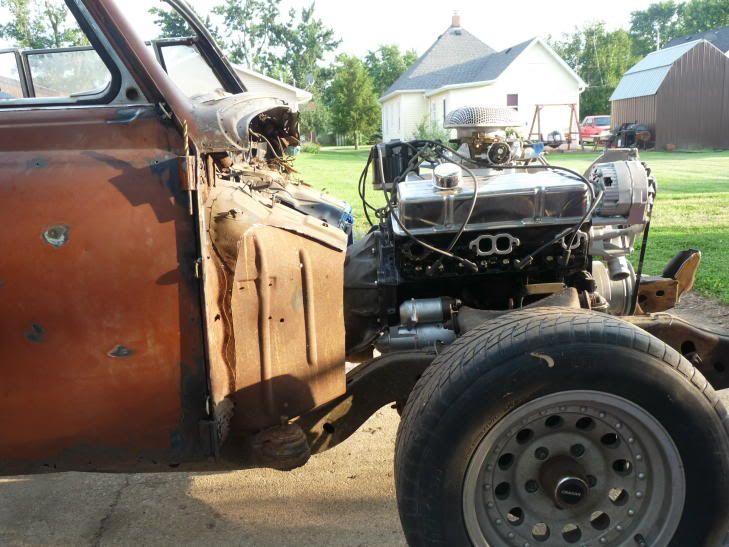 So I was planning on just having the s10 drive shaft cut down and re-welded, etc. So I pulled out my driveshaft to eyeball it, and that's when I remembered that I had the 2 piece drive shaft from the engine donor truck. The back section of that drive shaft just happens to be the right length that it will move the engine/trans back about 6". So I thought I was set, the th350 trans yoke fits the 200r4 so I could just pull that yoke off of the front shaft and put it on the rear with a new U-joint. Then I could throw a new U-joint on the back of this shaft get it balanced, and connect it to the pinion yoke and be set………….. WRONG….. Unfortunately the two drive shafts have different style U-joints, the bearing cups??? Are different diameters on them, so I can't connect the shaft to the pinion yoke.
Here's a couple pics: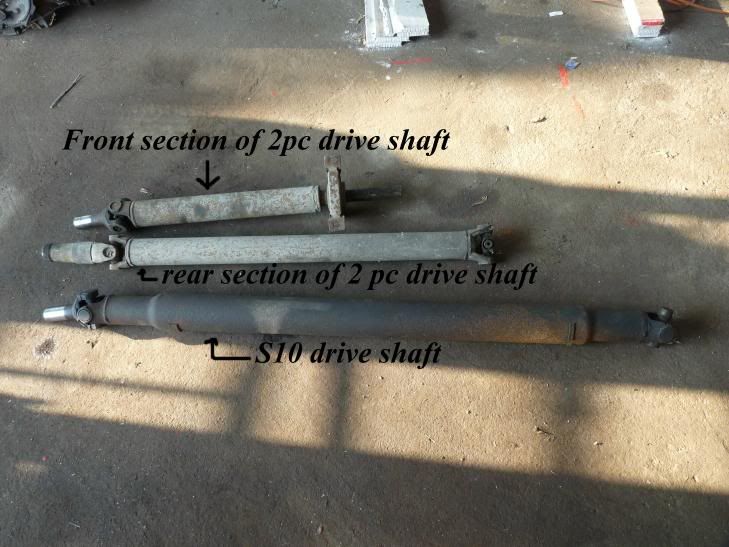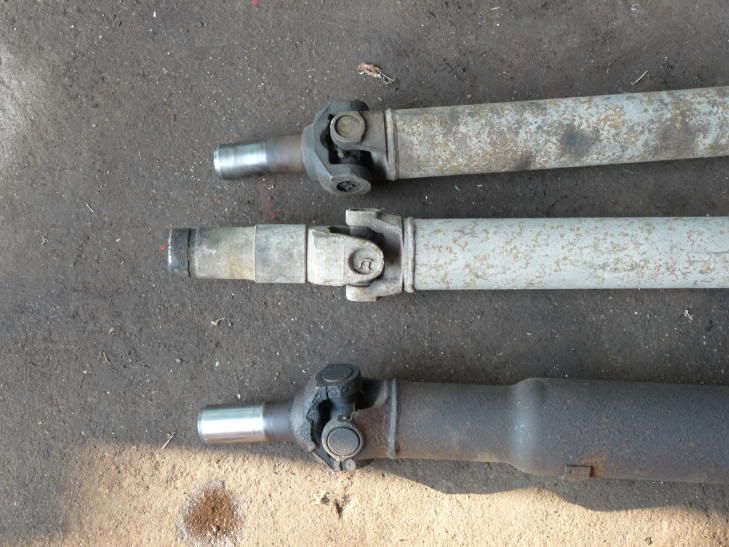 My question:
Is there maybe by chance a universal, universal-joint (LOL) out there that solves this problem?????? Or is pretty much my only option to swap out the pinion yoke???? If that's the case I won't be saving any money buying a pinion to save having a drive shaft shortened, and I might as well use the s10 drive shaft and make it the length I want. I just don't have much driveshaft experience other than swapping out worn out u-joints so I figured I'd ask before I scrapped the idea.
THANKS FOR THE HELP