Discussion Starter
·
#1
·
Hi Everyone. FNG from S. FL. about time I posted something here.
My name is Marc and I have been car crazy since I was a wee kid.
ever since my first car(82 mercury zephyr!) I have done almost all my own repairs and maintenance on all my cars. this generally would include upgrades when things need repair, such as high flow radiators to replace leaky ones, or upgrading to HEI from points etc.
I've had a 71 GMC truck that I've slowly modded a little here and there, now it's torn down to the frame waiting to be put back together for a 'shop truck'. Not exactly a hot rod, just a 'hot truck' haha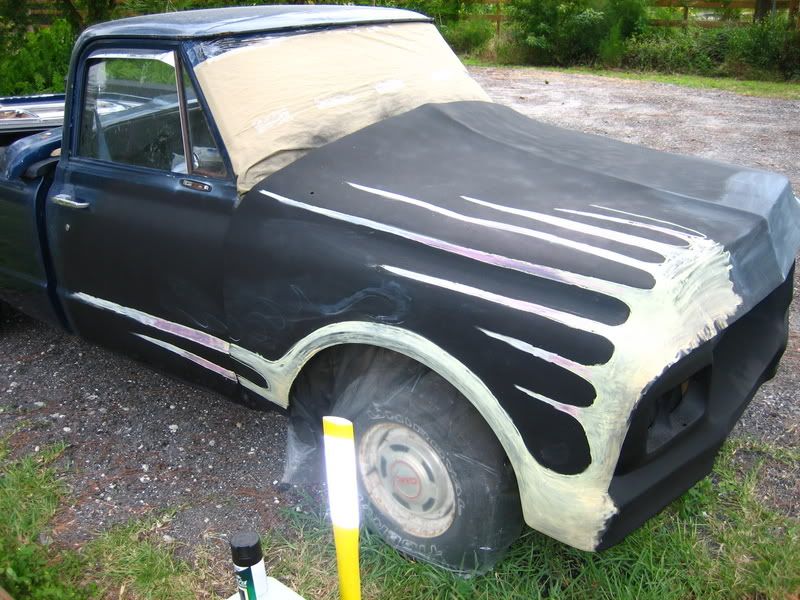 I have a 56 big window truck that is awaiting some TLC as well.
I'm a moldmaker by trade. I make molds for cast concrete, for lost wax(for bronze casting), for fiberglass parts and custom prototyping. My moldmaking experience got me working with a Steel sculptor. He is pretty well known in the art world and I have worked with him for almost 10 years, he taught me most of what I know about steel. from making patterns, to fabricating and finishing lifesized to monumental sculpture. Most are fabricated SS and Silicon Bronze, while some are cast bronze.
here's a pic of Cobert Collins sitting on one of his pieces
and here's an example of the kind of fabricated work I've done for him.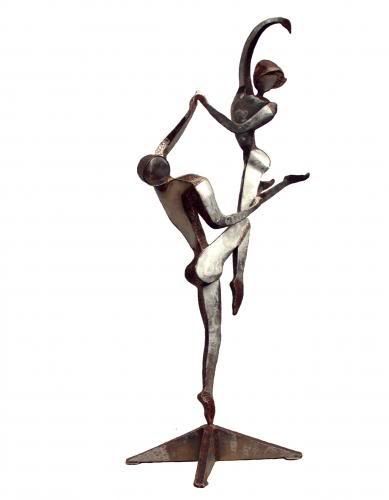 and the first piece I made myself- all Silicon bronze hand hammered to shape and welded up. Abstract heron
To bring it back to automotive- all these skills got me on my way to custom cars. I started working with my buddy who owned an upholstery shop, first I was just repairing broken interior parts. This mostly was fiberglassing interior trim panels that were broken or making new ones from scratch, and simple welding jobs on broken seats, seat rails, and assorted busted mounts. Then I started making some custom parts, and along the way got behind the sewing machine. I seemed to pick it up really quick, something about stabbing some material again and again just seemed to click.
I guess with my background as a moldmaker and then making sculpture, I found it somewhat easy to make patterns and such.
Now I'm doing a few custom jobs here and there. A good bit of boat/marine work and a little automotive work. its fun and is a 'paying' hobby at this point, hopefully it will turn into more!
Here's some pics:
This was the first seat that I made patterns for. They are for a guy's 66 mustang, he bought new frames, foam, and door panels and it was my job to cover them! Yikes! after a dry run with some scrap material to 'test' my pattern, I sewed them with his fabric.
they're not great, but passable for a first time out.
here's a bike seat done with black leather and the stamped alligator leather. The lady who owns the bike took some of the alligator leather to a cobbler and had custom riding boots made to match the bike! I re-shaped the lower seat to her request. I narrowed the front/sides, and cut out the seat top a little, also built up the front 'point' of the seat. She wanted the red stitching(I thought an ochre matching the gator would have been nicer)
I've done a good number of interiors for those 'high-riser' cars. you know the type- flashy old cars lifted with huge wheels... Not really the type of thing you'd see here, so I'll hold off on those pics for now

no need to raise everyone's blood pressure!~
I'm trying to do more stuff for older classics and antiques and less stuff for the 'donks'.
Anyways I just wanted to introduce myself, about time I stopped 'lurking'
:welcome: