Discussion Starter
•
#1
•
Hey everybody, heres a tech on some of the more common Ford steel Wheels that hot rodders use. Hope somebody finds this useful.
Wide Five Wheels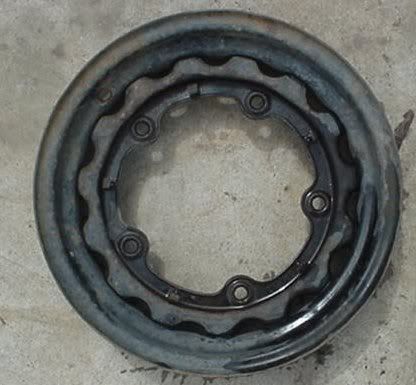 36-39 Ford
The '36-39 Ford had the "wide five" bolt pattern, the actual bolt pattern is 5 on 10 1/4 and it is also easily identified by just looking at it. All the normal cars and pickups had 16x4's, but the ones that had the V8-60 engine had 16x3.5's. The hubcaps on these wheels are held on by clips. The 36-38 Lincolns and '39 Mercurys also had 16x4 wheels. A separate company, not Ford; converted Fords to 4-wheel drive and they put wide five wheels on their cars from 36-47. They were 16x5 and they didn't have the spokes around the bolt pattern. These wheels are fairly rare. Wide 5 wheels also came in 18 x 3.62 for high clearance needs.
40-48 Ford and Mercury, 39-48 Lincoln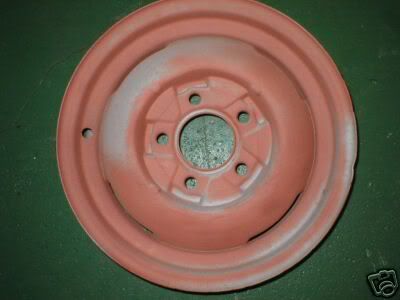 40-48 Ford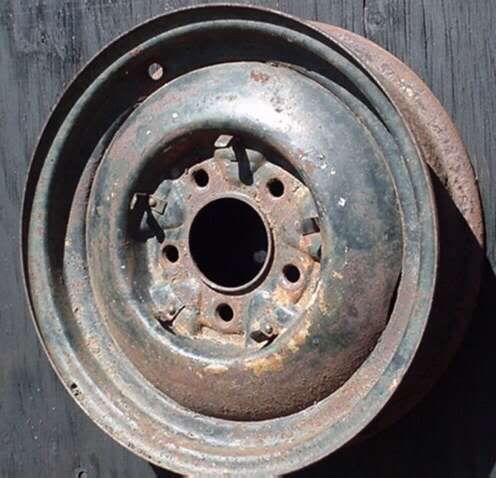 39-40 Lincoln
42-48 Lincoln
The 40-48 Ford, 40 Merc, and 39-40 Lincoln were 16x4 and the bolt pattern was 5 on 5.5. The Ford and Mercury wheel hubcaps were held on by knobs that were on the inner part of the wheel and connected around the outside of the hubcap, this is called an inside knob hubcap. The Lincoln wheel hubcaps were held on by clips. In 1940 the Fords that came with V8-60s had 16x3.5 wheels. In 1941 Merc and Lincoln both had 16x5 wheels, Merc still had inside knob hubcaps and Lincoln still had clips. The 42-48 Mercury and Lincoln wheels were 15x5 and again Mercs had inside knob hubcaps and Lincolns had clips. Also a 18 X 3.62 wheel with the 5x51/2 bolt pattern was made for cars and light pickups, sometimes called milk truck wheels or divco wheels. They had a spoke look like a wide 5 but with only 8 wider spokes. They also used the stock 40 thru 48 hub caps These wheels could be had on 40 thru 48 fords cars and light trucks in the U S and thru 64' on pickups in Canada.
49-56 Ford, 49-51 Lincoln and Mercury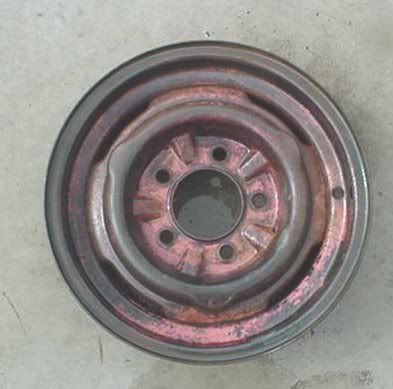 49-51 Mercury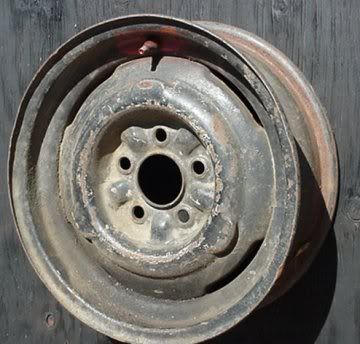 15" 49-56 Ford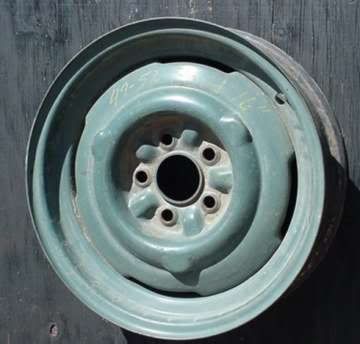 16" 49-52 Ford
Normal 49-56 Ford wheels were 15x5 with a 5 on 4.5 bolt pattern. Their hubcaps were outside knob which means the knobs are on the inside of the hubcap and on the outside of the center of the wheel. The hubcap that these wheels took measured 10 1/8 accross the back. From 49-52 Ford offered a 16x4.5 as an option, same bolt pattern and hubcap. From 49-51 the 6-cylinder cars came with 15x4.5 and from 52-56 the station wagons had 15x5.5 wheels on them, both same bolt pattern and hubcap. The 49-51 Mercurys had 15x5.5 wheels with a 5 on 5.5 bolt pattern. The hubcaps were bigger than normal Ford hubcaps. I'm not exactly sure of what size the hubcaps are, but it's something like 11", but they are still outside knob caps. 49-51 Lincolns also had 5 on 5.5 bolt pattern, but were 15x6s. They also had wheel covers instead of hubcaps. They had little bumps on the rim to hold the wheel cover on.
Ford Pickups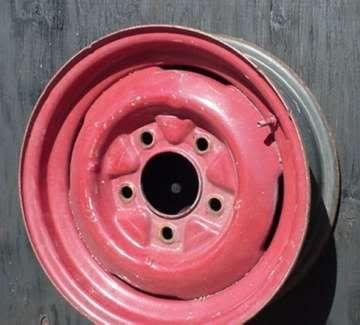 49-64 Pickup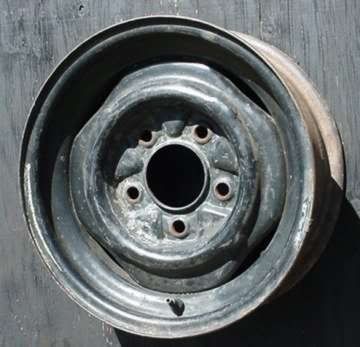 65 and up Pickup
Up until 1949 Ford pickups just used the same wheels as the cars, but when the ford cars moved to the 5 on 4.5 bolt pattern the pickups didn't. They stayed with 5 on 5.5. The wheels they used from 49-64 much like 40-48 in that they had inside knob hubcaps and 5 on 5.5 bolt. The early wheels were 15x5 and the later ones were 15x5.5, I'm not sure what year they switched over to the 5.5 width. In 1965 Ford trucks switched over to an outside knob wheel and kept that wheel up to the mid 80s
Hope this is useful
Thanks, Jimmy