Hey Jim,
Montana here. Have you read the article on my experience with MORELS in my 389" SBC?
Here's the link: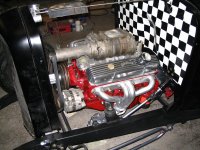 This thread is going to be a conversation/journey/history about building up to this latest 389" roller motor for the '32 Hot Rod. I'm usually one of...
www.jalopyjournal.com
Here's another one where I commented on MORELS:
HAMB people. I'm hoping someone might be able to help. I have a set of Morel Hydraulic Roller lifters in a motor, they have started to make a noise...
www.jalopyjournal.com