Just because the bottle says "FULL SYNTHETIC" that doesn't mean that the oil contained within is 100% synthetic, and I'm NOT talking about Synthetics vs. Synthetic blends.
The major oil sellers are ripping off people with the term "Full Synthetic". Full Synthetic does NOT mean 100% synthetic, again, I'm not talking about Synthetic Blends.
If the engine oil is not made from Group 4(Poly-alpha-olefin) or Group 5 oil base, it's NOT a 100% synthetic oil.
Group 3 oils are all cracked from hydrocarbons(dinosaur oil or natural gas), therefore are NOT 100% synthetic. There is a lot of propaganda out there stating that high quality synthetic oil is cracked from Natural gas, this is simply not true. This is merely repeated over and over in attempt to brainwash the public into believing the "Full Synthetic" semantics.
A big indicator between Full synthetics that are cracked from dinosaur oil and/or Natural Gas, but are really a quality conventional motor oil and 100% true Synthetic engine oil is the cost.
True 100% synthetic oils will double the price of an oil change, not just add $5-$10 to the cost.
When buying engine oil, I would look and all the Full Synthetics were only $10 more per gallon than the conventional oils. I think to myself, Wow, what a great deal, I'm gonna buy that Synthetic oil, its only $10 more. I consider myself an intelligent person, so I know I'm not the only one who has been duped.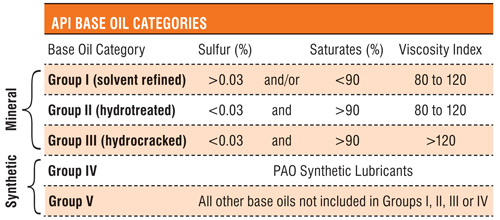 Explained here.
https://en.wikipedia.org/wiki/Synthetic_oil#Full
Here is a straightforward article on the difference in the 5 types of lubrication, free of spin by the oil makers.
Understanding the Differences in Base Oil Groups
Wiki base oils
https://en.wikipedia.org/wiki/Base_oil
IMO Wikipedia is fairly accurate as its seen by millions and point plus proof is usually required.
peace
Hog