Discussion Starter
·
#1
·
I'm looking for feedback, comments, or constructive criticism on a new website which I've recently completed:
SpankMyMarketer.com
.
Some of you may remember, earlier this year, we were spammed with a promotion for a car giveaway at the upcoming SEMA show. The promotional material included a photograph of two gentlemen wearing nothing but women's thong underwear imprinted with the slogan "Spank My Monkey", and a video in which the owner of a fairly well-known hot rod shop declared that he was "Quickly establishing himself as the Anti-Christ of the Hot Rod World".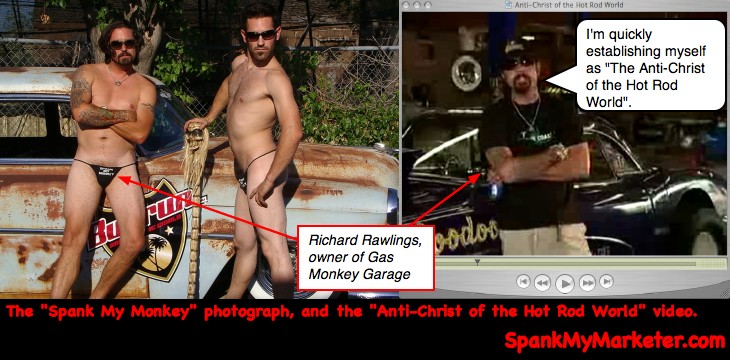 We did some research, exposed the marketing campaign, parodied the promotional material, and spread the word around the net. In response, Corky Coker, the outgoing SEMA Chairman of the Board (whose company and brother were featured in the promotional video), came on the board and attempted to defend the campaign. He failed, and a "mystery" user registered on the board, put his location as CO (where I live), and made a threatening "watch your back" type of post. IP address data showed that the "mystery" user and Corky Coker had the same IP address, and had been posting from the same location. Though Coker denied that he had personally made the threatening post, he admitted that it had been done by someone at Coker Tire.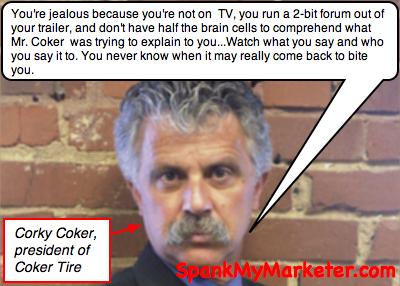 Word got around. SEMA's public relations firm confirmed that SEMA had canceled the giveaway, and the industry distanced itself from the failed promotion. Episodes of
Overhaulin'
which featured Gas Monkey Garage were even pulled from the air by The Learning Channel.
I had thought that would be the end of that situation, and we would get some closure.
Unfortunately, Corky Coker would then embark on a publicity campaign in an apparent attempt to cover up the events. A one-page website that lauded Corky's achievements was put up at CorkyCoker.com. A heavily-biased "biographical" article of Corky Coker would even be placed on Wikipedia, by a user named "CokerTire". Coker failed -- Wikipedia administration deleted the article, and our page about his misadventures now comes up #1 in Google when searching for his name:
http://www.google.com/search?rls=en&q=corky+coker&ie=UTF-8&oe=UTF-8
. SEMA and The Learning Channel refused to discuss the situation.
In researching the campaign, I discovered that the SEMA "rat rod" giveaway was part of SEMA's larger attempt to market to the "rat rod" culture, which they defined as an "emerging youth culture trend", and encouraged people to attend the upcoming SEMA show, where they could "see up close and in-depth what's next for this lucrative market, and get everything you need to take advantage of it.

The "Spank My Monkey" thong pic, the Anti-Christ video, Coker Tire's threatening pseudo-username, and the fake wiki article were bad enough. Finding out that it's all part of a campaign to squeeze money from the "youth market" really puts it over the edge. So, I started work on SpankMyMarketer.com.
SpankMyMarketer.com serves two purposes. First, it documents the failed Spank My Monkey/Anti-Christ marketing campaign, with many pages of content, and numerous footnoted sources. It also presents evidence as to Discovery's use of guerrilla marketing tactics to promote its shows on the internet, and definitively answers the "are the shows scripted?" question, once and for all. Obviously, nobody is going to read dry information, no matter how useful it is. So, the articles are filled with funny parody comics, and there's even an entire gallery section filled with comics. This will be especially effective for the "youth market", whom we want to see the site.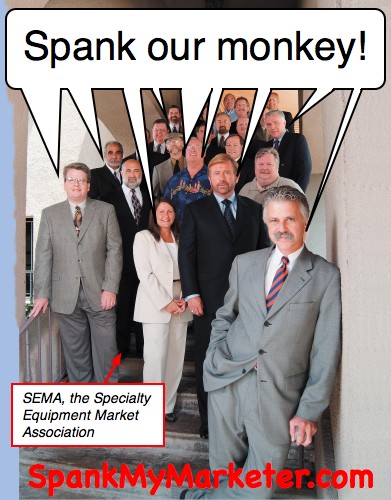 Second, SpankMyMarketer.com attempts to
reverse
the failed marketing campaign with the use of a special software tool called "The SpankMaker". With The SpankMaker, you can make your own parody comics of manipulative marketers, and then send the comics back to the original marketers. It's fun, funny, and perfectly legal. It's also very easy. Just type some text into a box, then it's one click to make your comic, which you can download, or post on the net. One more click to email it to your favorite marketer
.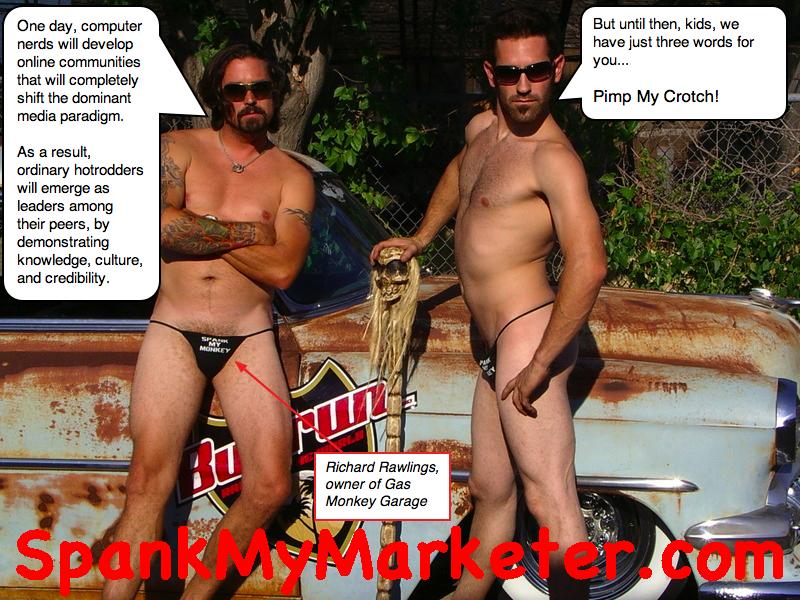 Anyway, I've already received some valuable private feedback, and I'll be "officially" listing and promoting the site soon, so I wanted to take the time to gather a round of input on the board. Let me know what you think:
SpankMyMarketer.com
.