Discussion Starter
·
#1
·
gen 1 small block chevy
- mechanical short water pump
- borg power steering pump
-
march performance : drivers side lower bracket
-
summit : alternator bracket
here is where things get a bit interesting.
the alternator bracket is intended to be used on the drivers side, lower position. *same as the power steering bracket*
I've flipped it to the passengers side since i'm using an electric pump, which will work great, but will require the radiator hose to have an immediate 90 deg bend from the water pump.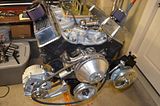 I've found a couple of hoses that will give me what i need when spliced, and have attached an image to better describe my idea.
I'm thinking of having a short piece of aluminized pipe or stainless pipe for each splice point. *again, easy to see in the attached images*
I'm not sure how to secure the completed hose, and have it "clean" looking.
open for suggestions.
chris<pixelmonkey>