Discussion Starter
•
#1
•
I spotted this on another sight and thought it was worth passing on.
It looks like someone decided that that O'L truck in the shed was abandoned and forgotton.
Stolen Car Alert $3000. REWARD On Monday we met Bob Braun who told us about a family heirloom truck that was stolen from his mothers farm on Dec. 29. It was off of Highway 20-26 between Notus and Caldwell, Idaho. The culprits vandalized a fence in order to get the truck out of the barn where it rested for many years after many work years as a farm truck. The truck was most likely towed down Highway 20-26 toward Caldwell. The truck is equipped with a flathead V8, dual rear tires, and a wooden box bed. It is a faded blue-green color If you have info please call the owners Robert 208-468-0628 or 869-4379 or Don 989-1100 l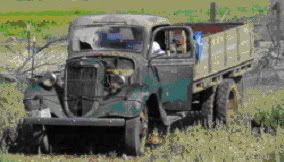 I'm not connected to this in any way except as a rodder who doesn't like thieves.